While I know this blog is mostly for posting my art, I figured I might as well actually post some stuff about my life, too. And I'll probably post some art, too.
So I hope everyone has been enjoying their holiday season! I know I have. Since I got back to Salt Lake City on the 19th, it's kind of been nonstop fun with family and friends since I've gotten here. The Bernhisel side of the family always seems to have some crazy event going on, and that's always a blast. I can't say I'm not exhausted, though. Already I'm dreaming of a few weeks in San Francisco where I can really relax with Schuyler, my cats, and my roommates and work on art, and see if I can find a job or sell some art.
I was planning on getting a bunch of artwork done on my computer while I was back here in Utah--but guess who is a dingus and forgot her tablet pen? That would be me. Oh well.
I'm so excited for this next semester. While I don't have my classes totally hammered out, I am most likely going to be taking Character Design, Advanced Animal Drawing, and MAYBE Landscape Painting, and a liberal arts class that is yet to be determined. If I don't take Landscape Painting, then I'll just take another liberal arts class.
As for my life before I came back to Salt Lake, the last couple months in San Francisco were crazy ones. Halloween was a blast as we had a small group of friends over for a party rather than braving the rain for the city-wide scavenger hunt which was the original plan. November came and went with getting a new she-cat named Yogurt, glasses for my horrible eyesight (finally! no more migraines in class), and me and Schuyler staying in San Francisco with Schuyler's brother Colin and his fiancee Laura and some friends all bringing stuff for a potluck Thanksgiving dinner, which was wonderful.
December was a month of craziness filled with shopping, finals, and stress, but now it's over with and I'm really looking forward to the New Year. So far I've been skiing with my family and a few friends once, and I'm really looking forward to being able to go again before I take off again on January 8th.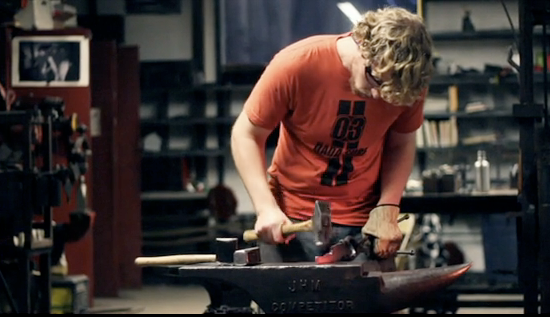 Other updates: My boyfriend
Schuyler McAlister
just started a Kickstarter.com project. His goal is to have $5,000 pledged by January 9th so that this next semester he can work on becoming a full-time professional blacksmith in addition to being able to build up his blacksmithing portfolio with larger projects. For a pledge of $15, he'll handmake an awesome bottle opener, for $30 you'll receive a screen-printed black t-shirt with his anvil logo on the front, and for $150 he'll make you a badass handmade utility knife. Since I last checked maybe thirty seconds ago, he's only $215 away from his goal. TWO-HUNDRED AND FIFTEEN DOLLARS away! Out of $5,000! Every little bit helps, so if you find yourself with some extra money, watch his video, then click where it says "Light My Fire: A Blacksmith's Portfolio" and pledge some funds.
I hope you all enjoy what's left of this year, and I wish you all the best of luck in the new one. Happy Holidays!